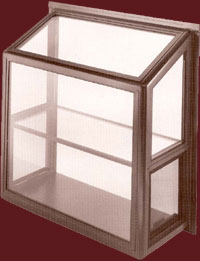 Rounded Corners
Stronger and safer, with no protruding edges.
Clear Outside View
No bars or obstructions.
Fully-Adjustable Tempered-Glass Shelves
For a variety of plant sizes.
Low-E2 Insulated Glass Roof
Reduces heat transmission and
ultraviolet rays.
Rugged Welded Frame
Virtually indestructible, stronger, carries more weight.
Easy-Opening Side Vents
Sash balances for fingertip control.
Security Locks
To keep the side vents closed and safe.
Fully Insulated 3/4" Bottom Tray
Sturdy, specially formulated rigid vinyl. 16" deep for wider plant bases.
More Aluminum Window Information
Distributors click here for KD vinyl greenhouse window info.