Item No.:
KDS1000
Overall Dimensions:
43"w x 72"h x 22.5"d
Window Nominal Size:
3'0" x 3'0"
Window Inside Dimension:
34 1/2" x 34 3/4"
Display Color:
White Window / Black Frame
Display Includes: Window, Stand, Sign & Sales Literature (Consumer Handouts) Some assembly is required. Window assembly is also required when shipped as a kit.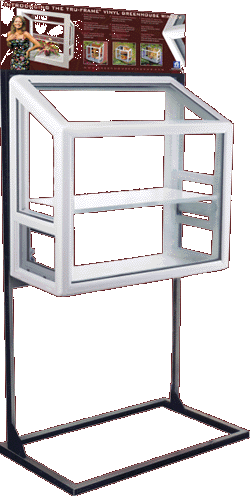 DRESS UP YOUR DISPLAY AREA!
White, Bronze, and Desert Sand are in stock. Special exterior colors are available This free standing, full-size Tru-Frame® Window display will enhance any showroom. Its sturdy frame allows the display to be placed anywhere in the room, and requires no additional support or fastening methods.
INCREASE YOUR SALES!
The Tru-Frame® Greenhouse Window sells itself. Brochures and pictures don't do this window justice.you've got to see it up-close to realize its true beauty.
Vinyl Greenhouse Window Options
EXTERIOR COLORS:
White, Bronze, and Almond are in stock. Special exterior colors are available Special colors available on request. Stock Colors listed below. WH = White BR = Bronze AM = Almond
INTERIOR COLORS:
All White Interior is standard with White, Bronze, and Special Exteriors. All Almond Interior is standard with Almond Exterior. Wood-Grain laminated interiors are available upon request.
SPECIAL SIZES AVAILABLE:
Window is available in any size between 2'0 x 2'0 and 6'0 x 5'0.
GLAZING SYSTEM:
Low-E2 insulated top and clear front & side ¾" IGUs are standard. Many glass options are available, including All Low-E2, Bronze, Etc. Single-Glazed units are available upon request.
ADJUSTABLE SHELF SYSTEM:
Adjustable Tempered Glass Shelf is standard, other shelf materials are available.
AAMA CERTIFIED / NFRC RATED:
A full complement of test data is available to back-up our claims of superior performance and durability.
Prices Subject To Change Without Notice